Beautiful Lodges Nestled on the Edge of the Galloway Forest
With the backdrop of the Galloway Forest Park on one side and bordered by the Golf Course on the other, Conifer Lodges in Newton Stewart, Dumfries & Galloway, is the ideal base for a family holiday or romantic break. Choose from one of our 43 lodges sleeping 2 to 8, a number of our lodges are also dog friendly with secure decking areas, so please bring along all the family to enjoy the stunning scenery.
The forest itself is a paradise for nature lovers and within easy reach of superb fishing spots, walking and mountain biking; there really is something to please everyone. After a day out exploring, retreat back to your lodge and relax in the warmth of your private hot tub, where, on a clear night, you can take full advantage of being in a dark skies region and star gaze.
CHECK CONIFER LODGES AVAILABILITY  VIEW ALL CONIFER LODGES PROPERTIES
Site Plan
Conifers Reception
Bluebell Lodge 2
Bluebell Lodge 3
Bluebell Lodge 4
Bluebell Lodge 5
Laurel Lodge 6
Bluebell Lodge 7
Conifer Lodge 8 with Hot Tub
Bluebell Lodge 9
Bluebell Lodge 10
Bluebell Lodge 11
Birch Lodge 12 with Hot Tub
Birch Lodge 13 with Hot Tub
Birch Lodge 14 with Hot Tub
Birch Lodge 15
Birch Lodge 16
Birch Lodge 17 with Hot Tub
Birch Lodge 18 with Hot Tub
Birch Lodge 19 with Hot Tub
Birch Lodge 20 with Hot Tub
Birch Lodge 21 with Hot Tub
Birch Lodge 22 with Hot Tub
Birch Lodge 23 with Hot Tub
Bluebell Lodge 24
Conifer Lodge 25 with Hot Tub
Conifer Lodge 26
Lady Galloway Lodge 27
Lady Galloway Lodge 28
Lady Galloway Lodge 29
Lady Galloway Lodge 30
Lord Galloway Lodge 31
Lord Galloway Lodge 32
Lord Galloway Lodge 33
Lord Galloway Lodge 34
Lord Galloway Lodge 35
Lord Galloway Lodge 36
Lord Galloway Lodge 37
Lord Galloway Lodge 38
Lord Galloway Lodge 39
Squirrel Lodge 40
Squirrel Lodge 41
Squirrel Lodge 42
Squirrel Lodge 43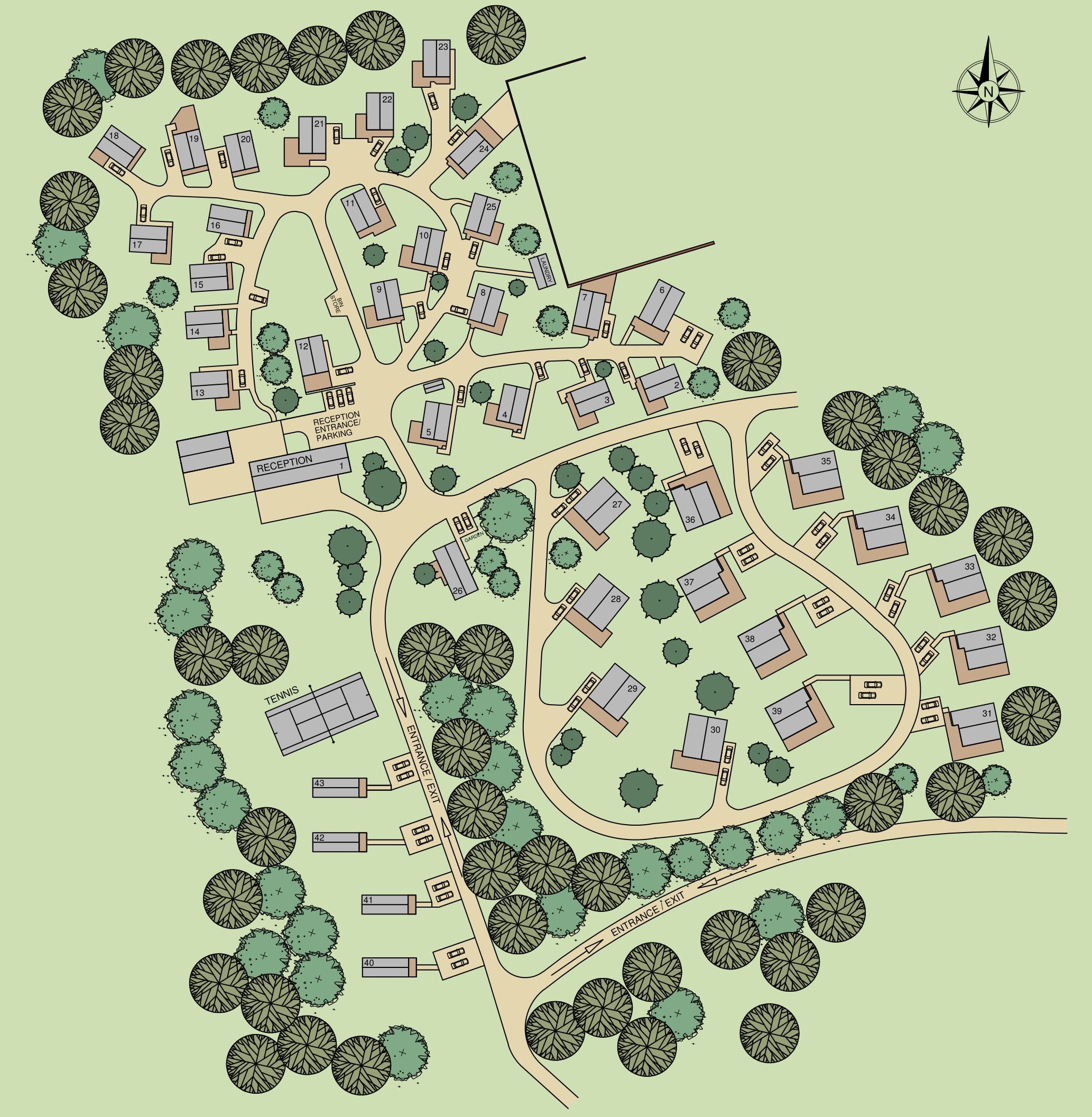 Directions
Address:
Conifer Lodges
Newton Stewart
Dumfries & Galloway
DG8 6AN
Directions:
Top Tip: Do not type in our postcode if you are using Google Maps make sure you type in Conifer Lodges in the search field. The postcode will take you to the outskirts of Newton Stewart which is a couple of miles from Conifer Lodges
Coming from the north via the M74 (recommended route): From Glasgow head south on the M74 until you reach Junction 15 (Dumfries/Beattock/Moffat), take this junction and then follow the A701 signposted Dumfries. Once in Dumfries, take the A75 heading to Stranraer. Follow the A75 for around 50 miles. Conifer Lodges is signposted from the A75 about 1 mile before the town centre of Newton Stewart.
Coming from the north via Ayr: From Glasgow head south on the M77 and A77 and continue until after Girvan where you then join the A714 (Newton Stewart). Continue on the A714 to Newton Stewart. Enter Newton Stewart and take a left over the bridge (B7079 Minnigaff). Follow this road until you see SEPA on the right hand side and take the next left into the housing estate, follow this round and take the first right on to Heron Way, continue until you reach Conifer Lodges.
Coming from the south: Heading north on the M6, take the A75 at Gretna towards Dumfries. Continue on the A75 through and out of Dumfries heading to Stranraer. Follow the A75 for around 50 miles. Conifer Lodges is signposted from the A75 about 1 mile before the town centre of Newton Stewart.


This is our 4th time at the Conifer Lodges, 3rd at the 3 bedroom Lord Galloways. We've also stayed at all but one of Solid Luxury's sites and cannot recommend them enough. We've started coming to this site since having a family and it's ideal for access to the town for parks, Kirroughtree, access to beautiful beaches and days out for the kids. The lodge as always, was immaculate and we had a fantastic holiday. Thank you!
After scouring for a lodge to celebrate a birthday in, we came across this. The price was a lot cheaper than others and the lodge was amazing. We had 2 dble bedrooms and 2 twins all great sizes and comfortable, the open living room area with kitchen and dinner table was great for the family. Toilets up and down stairs and a fully equipped kitchen with all you need. Spotlessly clean and nice and warm throughout. Hot tub was great and the area perfect for walking.15mn walk to newtonstewart local shops and pubs. Best Lodges I have stayed in and will be back soon.
Just had a fabulous weekend with the extended family. From the point of booking the team at Newton Stewart have been really helpful, attending to our every need. The lodges are of a high quality, particularly liked the well stocked kitchen and the bath in the bedroom looking out over the verandah to the treetops. The hot tub is amazing - well maintained and private. Cleanliness was of a high standard too. We liked it so much we were even able to book an extra night! Would highly recommend.
Book Now
30% Non-refundable Deposit Required to Secure your Booking
Balance Due 1 month Prior to Arrival
If booking is placed for a holiday within the month the full balance is due
Arrival Time: From 4pm
Departure Time: Before 10am
Refer to our Terms & Conditions for Cancellation Policy
Your widget will appear here.